State Herbarium of South Australia's Chief Botanist Michelle Waycott and her co-authors Kathryn McMahon & Paul Lavery (Edith Cowan University) published their new handbook to southern temperate seagrasses last month.
A guide to southern temperate seagrasses
M. Waycott, K. McMahon & P. Lavery
CSIRO Publishing, $29.95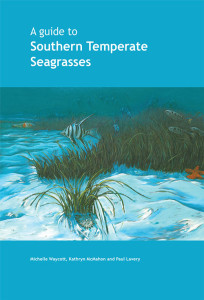 The book describes the exceptionally diverse seagrasses in the temperate parts of the southern hemisphere, i.e. off the coasts of southern Australia, New Zealand, southern South America and southern Africa. It introduces readers to the evolution, biology and ecology of these plants and presents detailed information on each species, with many photographs and drawings.
This is the second book in a series of guidebooks on the seagrasses of the world. The first volume was entitled A guide to tropical seagrasses of the Indo-West Pacific, published in 2004 by James Cook University.
The current volume can be purchased via the CSIRO web-site or in well-stocked bookshops. A limited preview of several pages is also available on the web-site.